HDPE filters
Sorbofil GPE is a line of carbon filters, specially designed to work in corrosive environments. Sorbofil GPE and Sorbotech carbons are recommended for use in biogas plants, sewage treatment plants and industrial plants.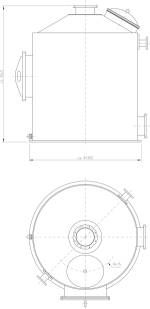 Sorbofil GPE-S 1250
Purification of corrosive gases requires the use of devices resistant to adverse conditions. Purification of biogas is an example of such a system; one of the major pollutants present in this process, often in very high concentrations, is hydrogen sulfide, which is a very corrosive compound. Application of standard steel filters involves a certain deal of risk of corrosion, and thereby of major damage which may result in the need to stop the whole system for repairs. Sorbofil GPE filters are made of highly resistant HDPE material, which is not damaged by corrosive compounds.
Sorbofil GPE is a line of carbon filters for gas purification. The appropriate model is selected from a range of products on the basis of flow volume and additional information concerning target working conditions of the device. Our filters can be adjusted to the design guidelines of the customers; adding additional insulation and making a filter with double walls is not a problem. Sorbofil uses SORBOTECH activated carbons as filter filling. The type of the activated carbon used depends on working conditions and is each time selected by ACES SA specialists.
Sorbofil GPE filters can be complemented with additional elements, such as:
automatic power-control system
mechanical droplet eliminator
fan
The filter works until the activated carbon becomes saturated. The exchanges made by our company are part of the comprehensive services and include:
delivery of new activated carbon
pulling out the used activated carbon from the filters
charging the filters with fresh activated carbon
disposal of the used activated carbon along with issuing the waste transfer card
You are welcome to contact us in order to select a solution adjusted to your needs.



Read also: